Just thought I'd review a variety of snack-y foods which I have tried throughout last semester. Some are good for sharing with people or the best choice from campus vending machines or a waste of money!
Hope you find it interesting!
Cafe Nero – Red Velvet cake, Coffee cake and White Chocolate mocha
I do enjoy a good mocha, and this was the first white chocolate one that I have tried, and I have to say, it was delicious. We also had the red velvet cake (which is the best I've had in the UK to date) and a coffee cake. Both cakes were rich, flavoursome and moist. I would recommend them to everybody and my only wish is that Cafe Nero was closer to uni!
Popping Candy Freddos
I found these in the Co-op before Christmas this year. I love popping candy in chocolate (Exploding Candy Chocolate Oranges are also awesome) so I decided to buy one and see what it was like. My conclusion: very good! I definitely prefer it to the ordinary ones and even the caramel ones. The ultimate one would probably be partly caramel and partly popping candy, though! I love texture in my food, so this kind of thing really suits me. They don't scrimp on the amount of popping candy and it is a nice snack.
Ketchup crisps
These have been around for years! I haven't seen them in a long time though, so when I saw them reduced in the Duncan of Jordanstone canteen shop, I decided to buy a pack and see how they were. Well they were.. ketchup-y! Imagine vaguely tomato-y vinegar crisps. Personally, I quite like them, but they are not something for every day! As always, Walkers maintains their high standards of perfectly thin, crispy crisps. The only complaint I have is that the packet (as often happens with crisps) was not very full, with only about half of the space used. I would rather they were just in a smaller packet.
Costa – Gingerbread Latte
This year, Costa's festive drinks selection included the Gingerbread Latte (left). Thankyou, Costa! The creamy latte with a light, sweet kick of ginger is both warming and refreshing. It comes with a generous topping of whipped cream, gold star sprinkles and a wee gingerbread man! Just watch out that your gingerbread man doesn't fall all the way in to the coffee,  or you could easily lose him!
If you get the opportunity to try this (assuming you enjoy being a bit experimental with your coffee), definitely do so. It is just so good! I've had it a couple of times with soy milk as well, which also goes well.
Rough Cuts 'Bang Bang Spicy Thai'
My friend Gavin and I are a little bit obsessed with these! They are 50p and probably the best value product in the Matthew Building's vending machine (they are probably in others on campus as well, but the Matthew Building one is all I know of!). There are other Rough Cuts flavours (also 50p) but why would you get a flavour such as cheese and onion that you can get anywhere, when there's Bang Bang Spicy Thai? They have great flavour and are proper thick crisps with a nice crinkle in them (as you can see). They are somewhat spicy but not very much at all, and combine flavour and spiciness a nice amount as well as the aforementioned great texture. If you want a satisfying crisp to keep you going as you work, then these are for you!
Principle biscuits
My dad brought these back from his holidays so I'm not sure where you would buy them here. Anyway, they are pretty good. They are like chocolate sandwiches. The biscuits are sweet, but dry. What these really need is a cup of tea to dunk them in.
Green Tea KitKat
I have a friend from Malaysia and she sometimes brings back some interesting food. So here's a very good example! She brought these green tea KitKats on one of the first days of term, last semester, and we all tried some. They were a little bit odd, but nice. They tasted a little bit like a watery white chocolate KitKat but with green tea flavours! I recommend you try them if only for the experience, but if you're not a green tea fan, then perhaps they're not for you! Must say, it was pretty cool eating a green KitKat!
Borders Butterscotch Crunch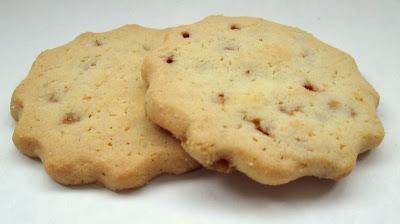 These are just so good. I have had them before, but I had forgotten, and I rediscovered them on the train to London. If you travel first class on East Coast trains, you get food, including these for free! They are smooth and crunchy with loads of bits of butterscotch inside, giving a rarely found flavour. I don't know if I have any more words to express how good these are! If you want me to be your friend… buy me these! Yum yum!
Jus Rol Pain Au Chocolat
I got a packet of these on sale. They were quite good, but I don't think I would pay full price for them. The dough is split up in advance which is useful, but also means that it is likely that you will get a really short bit at the end. 5 1/2 pain au chocolats? Hmm. Anyway, that aside, they needed much less cooking than noted on the box, meaning that I accidentally burnt the first 3 I made. I do partially blame myself as I should have been checking on them, but they were burnt a good while before they were supposed to be done. Now, taste. They were good. They don't get very big and they are perhaps a little dry and flaky but the flavours are nice. They are very easy to assemble.
My warning to you is that if you try these, be careful, while they're best straight out of the oven, be sure the chocolate has cooled enough as it gets burning hot.