Sometimes with confidence, sometimes barely. sometimes literally.
I don't know what the heck was I thinking. Doing a year which makes some 80% of my degree, while working three part-time jobs and leading a society, and volunteering for a few others… every sane person would instantly recognize this as a recipe for disaster, but not me. I dove head first into these waters of overwhelming lists of duties without checking the depth, like: "Pff, I can swim, hold my beer.."
To be fair, it worked all right at the beginning. But recently, I had moments when I felt sinking like a piece of rock. Those were the moments which took some extra effort to keep my head working. I had to put things in balance.
To do so, a few things helped more than others. Cycling, making noises, eating boatloads of sugar, listening to German minimal or French punk, hiking into the middle of nowhere at 3am to shout slurs into the void, and finally, slacklining – something I will talk a bit about.
Right. Slacklining is a form of tightrope walking, where instead of rigid rope you use a stretchy webbing. It is good exercise, and is surrounded by amazing people.

I started with it sometime around 2010 and I had a blast. However, then I moved into the USA, leaving all of my gear behind and there was nobody around to practice with. I cured some withdrawal symptoms by walking on some chains or steel wires around parking lots and such, but that wasn't the same.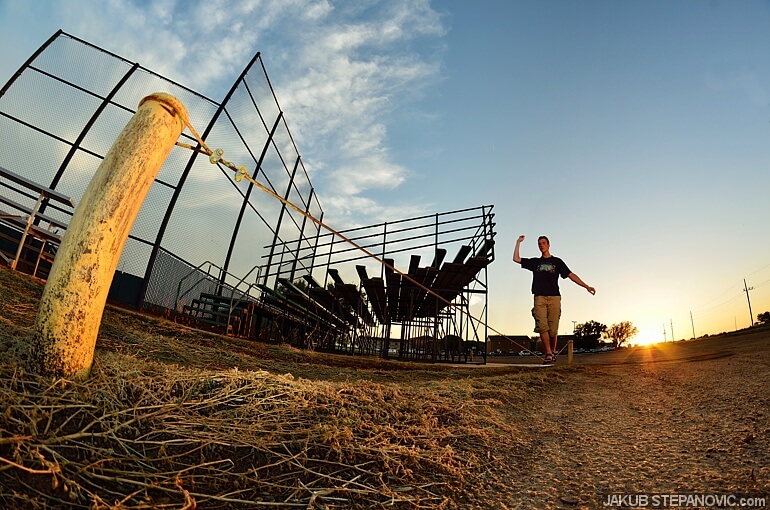 The situation changed when I planned a road trip to Colorado's wilderness and thought that it would be good to have some kit if I'd get stuck at some mountain pass. So among others, I bought a winch and a recovery strap. A long one, because I got an idea that it could be used for rather entertaining purposes besides an emergency. As it turned on, I didn't get stuck once, but stretched the strap between my car and a tree a couple of times.
I was lucky to travel around a bit, and every time I would go to some location with slacklining population, I tried to get involved. It wasn't a whole lot tho, but better than nothing. Years passed and I returned to Europe. After moving around a bit, I settled in London, where I got back to this hobby in a more proper manner. A few months in, and I was walking some good distances, and had fun like in the old days. Until I shattered my knee to pieces, which put another stop on developing this further. But I didn't give up. I started from the beginning once more, and eventually got some of the skills back.

So here in Dundee, it is one of my favorite options to relax, fun, and to clean my mind.
As per usual, people interested in this are cool, so it is also a good way to get together with others. For a change, because with all the involvements, my social life is rather rubbish most of the time. So yeah. Earlier today, a few of us met in the Magdalen Green and had fun, balancing.