The present state of not being able to physically hang out with friends is far from optimal; however, there are moments when solitude is beneficial. This post is about a solo adventure I did across a vastly remote area of the Scottish Highlands, long before the current lockdown got enforced.
First, why would anybody want to do a solo adventure? A) by doing so, you fully embrace independence. There's nobody to tell you what to do, it is all up to you. You set the directions, pace, and mindset. Everything is your choice and your responsibility – as there is also nobody to get you out of trouble either. It gives you an ultimate sense of freedom. B), and perhaps more important, you have space to deal with your own head to sort your thoughts. While some could say that you can do that very thing at home, I believe that being in pristine landscapes works just so much better. The fresh air translates into fresh ideas, plans, and inspiration. These personal escapes then prove as vital for both physical and mental well-being.
So, to the story: I decided to ride my mountain bike across Glen Nevis, between Corrour and Fort William. A location that was sitting among the top places I wanted to cycle in Scotland.
While I was in the west portion of the glen a few times, I've never went further than a few miles in. The further you go east, the more remote you get. At one point, there are no settlements or paved roads in a radius of 10km of mountains, which means there is hardly any traffic at all. There is no cycling path, but according to a map, there should be a hiking trail going through. The thing is, a hiking trail in the highlands can mean anything from wide, a well-graded solid path, to basically nothing at all. I didn't do research for this particular place and just went for it. There is a sense of satisfaction in exploring something unknown.
To magnify this sensation, my phone died a few days before the trip, and I didn't get a replacement yet. So I didn't have any fancy tracking services this time, something I usually carry when out in the wilderness. I went analog this time. "How'll that go?" I thought as I was on a bus, getting me to Spean Bridge, from where I planned to make the loop. "Well, there's a way to find out."
From Spean Bridge, there's a narrow road towards the glen. The thrill begins at the point when it starts gaining some elevation and turns from pavement to dirt. There's a sign telling you that you are entering "remote, sparsely populated and potentially dangerous area," and the surrounding turn very scenic. From here, one has to get over a mountain pass to get into the glen.
…However, as the nice dirt road continues almost all the way up, it's an easy climb. The further you go, the rougher the track gets. Also, the further I went, the more I enjoyed it.
In the beginning, I was thinking about work, about what will I do tomorrow, all sorts of things. But the more into the trail I got, the more was I focused on the present. This reached a new level once the track reduced to a narrow trail, and remained for hours. Sweet!
Every once in a while, the mud around was cut with bike tires – it was clear that some other people had the idea to bike here. But I didn't see anybody. I had the whole thing for myself.
As the trail got better and better, it was interesting to see how the vocabulary of my inner dialogue reduced; from sophisticated sentences to something like: "Wow, so nice! Wow, that [water crossing] was deeper than expected; wow, no traction; wow, excitement!"
At the top of the pass, I had lunch, enjoyed the views, and then, with a huge smile, I released my brakes as I set off to descent down to the glen. Yeah!
That was great! The trail, the scenery, everything.
At the end of the descent, I knew that I had to turn right at some point. However, there were a few trees in the middle of nowhere, sheltering an old structure asking for a closer look. So I kept straight until I got here:
In between of me and the house was a river, too deep to smash it through on a bike. But no bother, shoes off, refreshment, and an opportunity to clean some mud off the bike at once.
The house must have been pretty neat at some point, but now, there only the stone walls remain. Together with the rugged environment and nobody in sight, this was a very atmospheric set.
Looking west, a strong wind was bringing a storm my way. Oh uh. "Better keep moving to stay warm!" I was thinking, and set off into the cloud. It brought a short hail storm, but what was worse, I couldn't find anything which would hint a trail. No bicycle tracks, or any footprint whatsoever, nothing.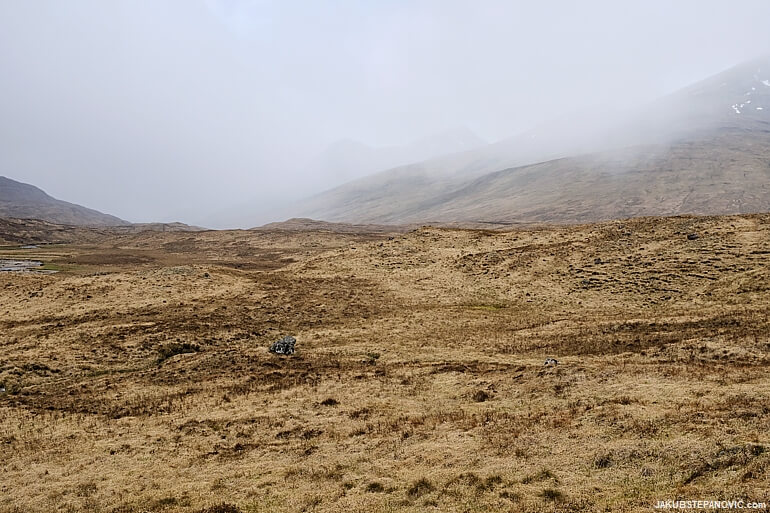 To cycle on this surface; well, let's say it is rather difficult. Everything looks the same, you try to keep going forward, and suddenly your front wheel disappears in deep mud. Bogs, bogs everywhere. I had to dismount every few seconds. Time was dragging, and in a bit, I also had to give up on keeping my feet dry. While I had extra socks with me, no point in changing them in this. When there was another river to ford, I didn't bother to take my shoes off. But nevermind the trail/weather situation, what a scenery to be in!
After some time, passing through the inhospitable land of noone, the clouds started to thin, and I run into a reminder that one should know their limits.
This wasn't a place for gloomy thoughts. "Keep marching, the trail can't be too far," I was trying to convince myself. And sure enough, out of nowhere, it appeared. Oh, yes! Please!
Not that it would be smooth, but that's fine. A technical path where you have to shift your weight constantly to keep the traction, and think about line choice to avoid pedal strikes, now that's mountain biking. Finally, I was making some progress again and even the weather cooperated – bringing a moment of sun, just as I was passing a small waterfall. Snack time!
Starting here, the trail was improving with each mile.
Suddenly, I saw a familiar view. "Ha, I know this!" There was also a convenient tripod-like rock nearby, so here goes a selfie.
From this point, I knew what is ahead of me. I knew that there's a nice trail all the way back to civilization, and that in no time, I will arrive to the Steall falls. Which were stunning as always: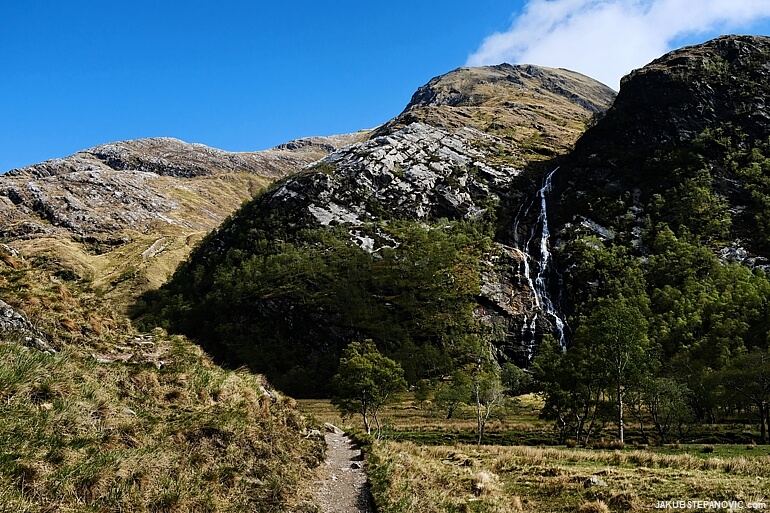 The falls are only a mile from the nearest parking lot, so the last section of the trail was a bit busy. But as it goes downhill, it's immense fun to cycle. I was exhausted after the day in the saddle, but this section gave me a second breath.
You don't have to pedal, the gravity will do. You just have to stay upright. So good!
I passed the parking lot straight into another trail, prolonging the joy of mtb for a tad longer.
There are a few other neat falls here, but due to their accessibility right next to the road, they were pretty crowded. It made me think that all of those people could say they spent a day outdoors – but there are outdoors and outdoors, I guess.
Speaking of the road, that's what followed, as I joined the pavement for a moment. It wasn't that bad, to be honest…
…and it took me to Fort William.
Here I got fish and chips, refilled my water bottle, and went north back towards Spean Bridge. There are designated cycling paths all the way, and it's entertaining as well. It passes the Inverlochy Castle, a ruin from 13th-century, and goes through the Nevis Range, where are some fabulous bike trails to end the day in style. The evening light wasn't bad either:
A cake with an ice-cream before the bus departure back home was then a deserved celebration of a fantastic day out.
So, there it is. From time to time, being alone is the best thing. And being in Scotland, where you can do similar adventures every weekend (once the lockdown is lifted), that is just as fantastic.
---
If you enjoyed this article, you might also like these posts:
Thanks for reading!