One of the best things about living in Dundee, is the number of small towns you can visit during your breaks. A 2-hour drive from Dundee with amazing outskirts views of Scotland, I visited a charming fishing town in the East Neuk of Fife called 'Anstruther'.
The top attraction of this place was it's high-quality fish supper from the Anstruther Fish Bar. They locally catch fish by the harbor as fishing boats land their catch.  During Covid-times we have to call them to inform them about the timings and the number of people joining. The ambience of the restaurant was fantastic. It felt like out of a 90s movie with their interiors. The fish tasted spectacular and there was even a vegetarian burger option for veges.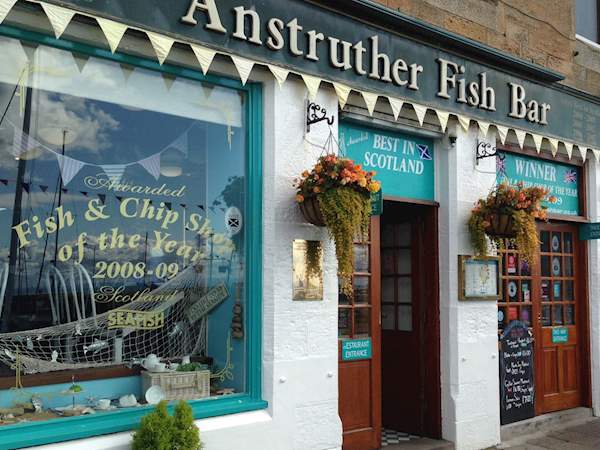 After finishing lunch, it was still bright and sunny outside making the ocean view look remarkable. When roaming around the town, it remined me of a cute Greek island with all the boats resting at the harbor and the house walls painted blue and white.
Anstruther has its own golf course and there is a hilly park located right next to it. It has a small cliff where tourists come and take pictures. It's also a good spot to have a picnic and a mini playground to keep children busy or mostly ourselves.
I would recommend going on this day trip during summers as you can even go on boat rides. I have attached a vlog to help you get a glimpse of Anstruther.
[contentcards url="https://www.youtube.com/watch?v=9717FR1iD8A"]